Hotfix Applicator Tool BeJeweller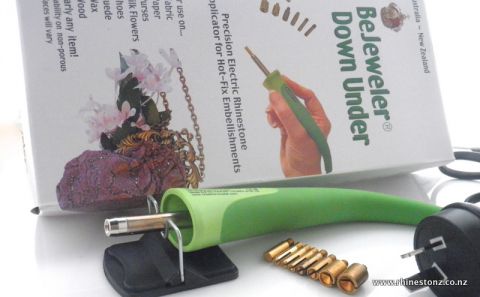 A brilliant tool for adhering Hotfix rhinestones to fabric, shoes, crafts, etc. The plug end is for NZ and Australia power outlets, so no need for a plug adaptor - just plug it into your usual power outlet and turn it on!
The cord is 167cm long, so allows for a decent length to work with if working on a craft bench or table. The set includes the BeJeweller tool, instructions for use, Ss8, Ss10, Ss16, Ss20, Ss30 and Ss34 Tips, Nail Head Hot Spot and stand for holding your BeJeweller tool while it is hot.
Hotfix rhinestones have a flat underside that is pre-coated with heat-sensitive glue. Only heat, applied to the crystal rhinestone will melt the glue and make it ready to adhere to the chosen surface. Hotfix crystals can be used on most surfaces, and many people consider hotfixing with Preciosa and Swarovski Hotfix Rhinestones a very practical and professional way of embellishing. Both Swarovski and Preciosa Hotfix rhinestones are dry-cleanable and washable, and both brands lead the way in confidence and quality assurance in the world of hotfix technology.
TO USE
Set your tool up with the desired attachment tip and power source. Place the end of the tip over a rhinestone, and allow the tip to gently fit over it. This should be enough to fit the stone snugly into the tip's concave end. As you hold it in the air, watch the glue on the underside of the stone begin to melt. When it looks well-melted like a simmer, but not too bubbly like a rapid boil, place the tip, with stone in it, onto the desired surface. The stone is ready to adhere to the surface by this stage, but if it stays in the tip, use a pin to pop it out, by inserting the pin into the slots on the sides of the tip. To avoid marking or burning the surface, lift the tip straightaway.
Can be used with all fabrics, even nylon tutu nets and bridal veiling with care