"Colour Me Paua" Swarovski Bicone Mix 4mm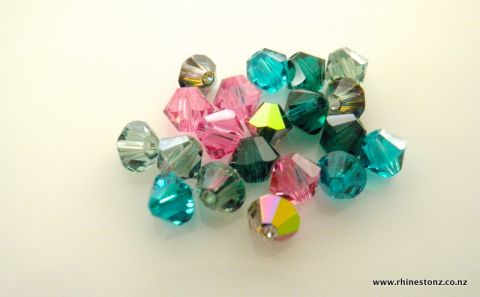 "Colour Me Paua" is a uniquely NZ mix of paua hues, perfect for creating bespoke designs for suncatchers, jewellery, beaded accessories, beaded tiaras and crafts.
Swarovski crystals are world-renown for their clarity of cut, colour and brilliance. Swarovski Bicones are bi-conal shaped beads with pre-drilled holes running end to end through the centre.
Measurements 4mm
Inside Hole Diameter nominal 0.80mm, with a tolerance of 0.70mm - 0.90mm
Material Machine cut crystal
Country of Origin Austria
In this mix you will get equal quantities of each colour; Erinite, Emerald, Blue Zircon, Rose and Vitrail Medium.
Use with our artistic craft wire, stringing wire or Fireline products, or with our beautiful range of jewellery findings including headpins, eye-pins and ear-wires. Or have a go at making beaded tiaras and hair-slides using our tiara bases!
For our full colour range of Swarovski Bicones & Beads please go to our Crystal Beads section.
For more inspiration, please visit our Blog!