Swarovski Bicone Art 5328 Violet AB 6mm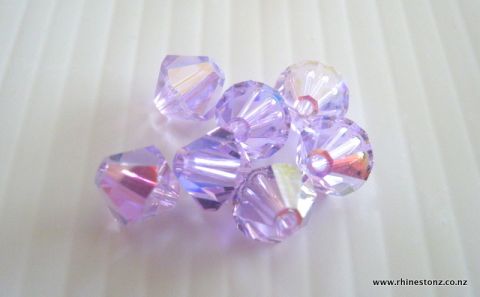 Swarovski crystals are world-renown for their clarity of cut, colour and brilliance. Beautiful beads for every occasion, whether it is for couture fashion, bridal, special occasion, everyday wear, or even home decor and craft. Add pearls, pendants, crystal rhinestones and other decorative elements to enhance your designs.
Measurements Length 6mm, Width 6mm
Colour Violet AB. A Violet bicone with the AB coating. A pretty orchid violet purple with extra golden and aqua highlights.
Material Machine cut crystal
Country of Origin Austria
Hole Configuration One hole through the centre
Inside Hole Diameter nominal 1.00mm, with a tolerance of 0.90mm - 1.10mm
More Info Use with stringing wire to make a simple necklace or bracelet, headpins or eyepins and other findings to make charms and dangles, or stack them onto Illusion Cord with a suncatcher prism as a feature. A 6mm Swarovski bicone will fit artistic craft wire up to 18 gauge. Crystal bicones are simply SO versatile!
Pack Size Options Choose your pack size from the drop down box below