Sterling Silver Bail 'Pinch' BEST SELLER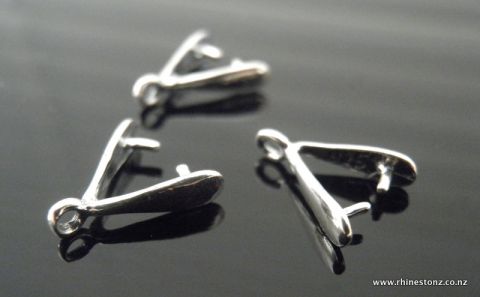 Bails are used to turn items (eg; crystal pendants) into functioning pendants that can be hung off other items, such as chain, earring bases, earring hooks and necklaces. They work by holding an item, usually with a grip or pinch, and providing a way for the other end of the bail to be attached to your chain, etc. It is always wise to consider the various components the bail will be required to connect with, ie; does the pinching part of the bail allow for the mass of the pendant?, do the prongs fit the hole size of the pendant?, and what about the orientation of the ring at the top of the bail - does it correspond to the orientation of the item you'll be hanging it off?
Sterling silver is an alloy of silver containing 92.5% by mass of silver and 7.5% by mass of other metals, usually copper. The sterling silver standard has a minimum millesimal fineness of 925. Fine silver, for example 99.9% pure silver, is generally too soft for producing functional objects; therefore, the silver is usually alloyed with copper to give it strength while preserving the appearance of the precious metal. Where physically possible, sterling silver findings are stamped ".925".
Item 'Pinch' Bail
Material Sterling Silver
Country of Origin Israel
Measurements Length 11.6mm Width 4.35mm
Ring Configuration Once attached to a pendant, the open face of the ring on the bail faces like an 'o' to the front
Use with Crystal pendants to make functioning pendants suited to necklaces and earrings
Pack Size Options Choose your pack size from the drop down box below