Swarovski Rivolli Chaton Art 1122 Silver Night 14mm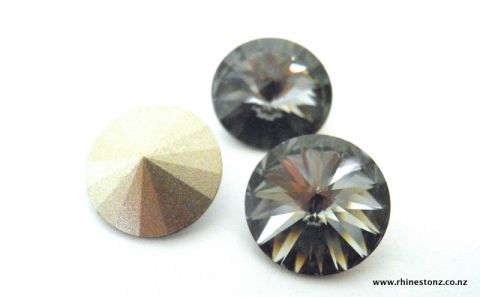 Swarovski crystals are world-renown for their clarity of cut, colour and brilliance. Beautiful stones up close so the ultimate choice for couture occasions and bridal wear. Excellent sparkle from a distance. Pointed back rhinestones are the kind used mainly in jewellery settings and fine embellishments directly into an adhesive-based area. Pointback rhinestones are also called Chatons. The pointed back gives a more intense sparkle, greater than flatback rhinestones give, due to the extra facets reflecting off the foiled backing.
Measurements 14mm
Colour Description Silver Night. A fabulous black grey crystal. Looks amazing when you need a sparkly black.
Material Machine cut crystal

Country of Origin Austria
Method of Application Apply these with a suitable adhesive into a 14mm rivolli setting for quick and easy jewellery making, or incorporate into beaded creations.
Pack Size Options Choose your pack size from the drop-down box below