Swarovski Rivolli Chaton Art 1122 Vitrail Medium 14mm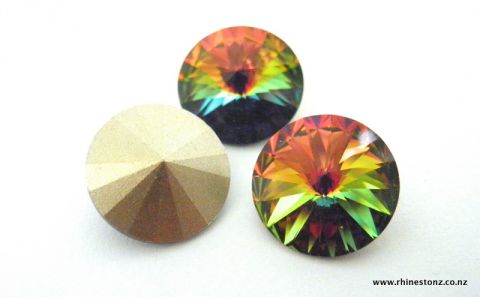 Swarovski crystals are world-renown for their clarity of cut, colour and brilliance. Beautiful stones up close so the ultimate choice for couture occasions and bridal wear. Excellent sparkle from a distance. Pointed back rhinestones are the kind used mainly in jewellery settings and fine embellishments directly into an adhesive-based area. Pointback rhinestones are also called Chatons. The pointed back gives a more intense sparkle, greater than flatback rhinestones give, due to the extra facets reflecting off the foiled backing.
Measurements 14mm
Colour Description Vitrail Medium. Vitrail Medium is an effects stone, so the colours coming from within the stone vary depending on the angle it is seen at; lime, cerise and burnt orange all show.
Material Machine cut crystal

Country of Origin Austria
Method of Application Apply these with a suitable adhesive into a 14mm rivolli setting for quick and easy jewellery making, or incorporate into beaded creations.
Pack Size Options Choose your pack size from the drop-down box below