Sample Chart for Jewel Acrylics Flatbacks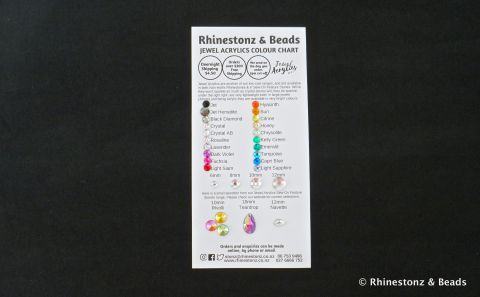 PLEASE NOTE THAT POST COVID LOCKDOWN WE ARE EXPERIENCING DELAYS IN THE PROCESSING OF THESE SAMPLE CHARTS. UNTIL FURTHER NOTICE, PLEASE EXPECT DELAYS ON ORDERS CONTAINING THESE CHARTS.
Sampling over 20 stocked colours from the Jewel Acrylics range; 1 stone per colour.
We particularly love these 'chessboard cut' acrylic gems for their crisp cut and bright colour.
They add light-hearted affordability to fashion and craft, and can add shape and bulk to projects that don't require the full 'crystal' treatment, but are great to combine with Arabesque, Preciosa or Swarovski crystals if the situation is right. These days, combining elements is the way to go!
Used for craft, clothing embellishing, stage and performance, Rave bras, Western Riding wear, Irish Dancing accessories, Dancesport jewellery and feature stoning.
Our Sample Charts have been designed by us to show all the colours we stock in our ongoing and current Jewel Acrylics range, for the purpose of matching stone colours to fabrics, selecting stone colour groupings and confidently choosing sizes. They are an excellent reference tool for dressmakers, designers, and for dance studio or club noticeboards.
Each size of rhinestone we stock in this range is also sampled, so you can compare sizes.
Please note, this is not a glossy presentation board. It is made by us on card.
For more information on colour, size and pack quantities, please go to our Rhinestones Non-Hotfix section.
We are also happy to assist with colours and cuts not necessarily stocked or sampled here. Please contact us if you would like to discuss your bespoke rhinestone needs with us. All enquiries are welcome.