Gem-Tac Non-Toxic Adhesive 4oz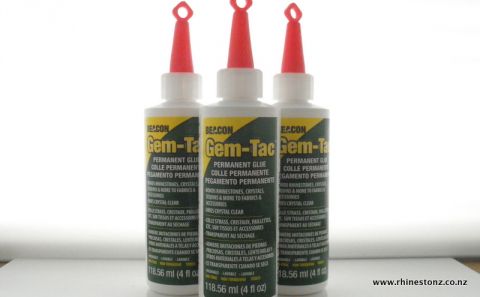 We've stocked Gem-Tac for over 30 years and find it to be a high quality permanent adhesive for the vast majority of our clients' uses. Gem-Tac is one of the best glues worldwide for gluing rhinestones to fabrics.
Specially formulated for bonding non-porous items (eg: rhinestones, gems, sequins, glitter, glass, vinyl, patent leather and metal) to porous surfaces (such as fabric, paper, card)
Water-based
Dries flexible and clear
Washable after 24 hours
Not dry-cleanable
Non-toxic, non-flammable
The instructions on the bottle advise testing before use to ensure suitability
Due to the extremes of temperature we have been having in NZ, the different sizings used on various fabrics these days, and chemical compositions in some washing powders we strongly recommend you follow the manufacturers recommendations
For storage, avoid extremes of temperature
We particularly like it because it is water-based so it doesn't string or give off any obnoxious fumes, it dries flexible and crystal clear, and is also washable after 24 hours
It is not dry-cleanable, but then not many glues are
Contents 4.0 fl. oz
Country of Origin USA
EASE OF USE
Excellent, just snip the nozzle and squeeze the bottle to get the glue out
HOW TO USE
Dab a spot on the surface you want to glue the rhinestones to
Use a sticky picker-upper to pick up the stone (we suggest blu-tac on the end of a pencil, no need for expensive additions like waxed pickers!)
Place the stone onto the glue spot and press the stone gently until glue comes up around the edge of the stone, yet some still remains under it also (like a little nest of glue)
OTHER NOTES
Transit through extreme temperatures can and may affect the adhesive properties of the glue. For this reason, we thoroughly recommend you do a patch test for adherence and washability, suited to your end use, before using on your expensive garment/s! This applies everytime you use it, as even storage in certain situations, like on the window-sill, can affect the glue.
Can speed up drying process in a hotwater cupboard or by heater
No strong smelling chemicals
Avoid storing in extreme temperatures
Can seem like it seeps through chiffons, satins and velvets too much
Will mark satin and satin-sheen-type fabrics where the glue comes in contact with it
CURING TIME
24-48 hours
WASHABILITY
Washable, not dry-cleanable
Have found that a cold water dunk is best, rather than a full-on soak, or a washing machine cycle. Simply because the water turns the glue back to it's milky white state and you risk losing stones in your washing machine. However, in saying that, some people have washed and washed and washed their costumes, and everything has stayed put. Like we say above. TEST. TEST. TEST BEFORE USE!