Preciosa Prism 2Hole Amethyst 14mm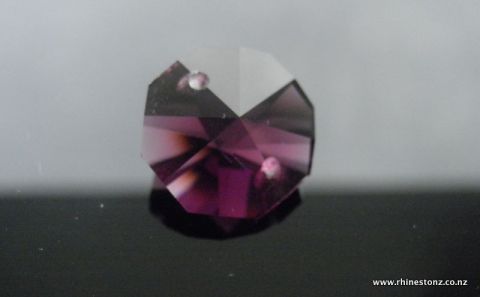 Preciosa's beautiful crystals have excellent sparkle, cut and colour. You can read more about the history of this iconic brand, here in our FAQ's. Preciosa's products represent excellent value for money for such a world-class product. Combine with pearls, pendants, and other decorative elements such as our Preciosa and Swarovski diamante spacers or metallics to create beautiful designs.
This Octagon prism is often used in chandeliers, strung together with chandelier connectors which are bend-able. They also make great little suncatchers.
Measurements Diameter 14mm
Colour Description Amethyst. A pinkish-purple.
Material Machine cut crystal

Country of Origin The Czech Republic
Hole Configuration Two holes pre-drilled on opposite sides of the octagon
Helpful Tip Use with chandelier connectors to make a string of these to hang as a suncatcher or use in a chandelier
Pack Size Options Choose your pack size from the drop down box below