Swarovski Heart Art 6228 Siam 18mm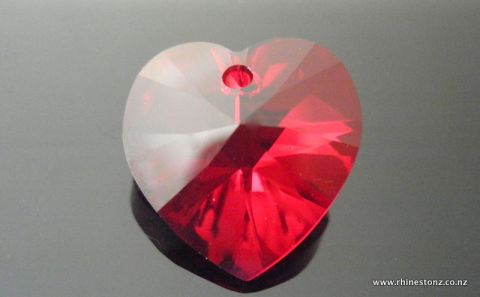 Swarovski crystals are world-renown for their clarity of cut, colour and brilliance. Beautiful pendants for every occasion, whether it is for couture fashion, bridal, special occasion, everyday wear, or even home decor and craft. Add pearls, crystal beads and other decorative elements to enhance your designs.
Measurements Length 18mm, Width 17.5mm
Colour Siam. No foiling on the back/underside. A dark red.
Material Machine cut crystal

Country of Origin Austria
More Info Pre-drilled top-hole with inside diameter of 1.60mm (tolerance of 1.40mm to 1.60mm)
More Info Use with a pendant bail (sometimes spelt 'bale') to enable this crystal to become a pendant, able to be threaded onto a necklace, chain or earring finding. We find that the combination of our Plain Bail and this pendant is perfect for going onto a chain or a strung necklace, and the combination of this pendant and our Fleur de Lis Bail is perfect for turning them into little earrings on our Sterling Silver Ear-Posts 'Half-Ball', and our Pinch Bail is perfect for use with the 'Ball' Ear-Wires and the 'Ball' Ear-Posts.
Pack Size Options Choose your pack size from the drop-down box below