Sterling Silver Ear-Wires 'Ball' 18mm BEST SELLER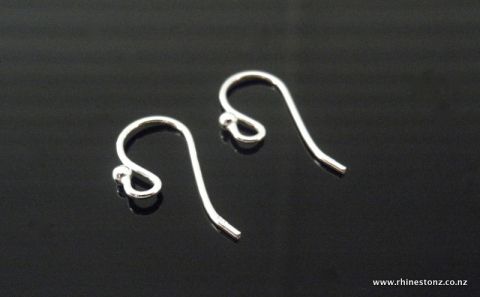 Sterling silver is an alloy of silver containing 92.5% by mass of silver and 7.5% by mass of other metals, usually copper. The sterling silver standard has a minimum millesimal fineness of 925. Fine silver, for example 99.9% pure silver, is generally too soft for producing functional objects; therefore, the silver is usually alloyed with copper to give it strength while preserving the appearance of the precious metal. Where physically possible, sterling silver findings are stamped ".925".
Measurements Length from top of the curve to where the dangle is to be attached is 11mm. Overall length of the finding is 18mm.
Colour Silver
Material Sterling Silver
More Info Has an open ring at the bottom which is part of the curve of the ear-wire and finished with a small ball. Works brilliantly with our Sterling Silver Bail 'Pinch'.
Pack Size Options Choose your pack size from the drop-down box below