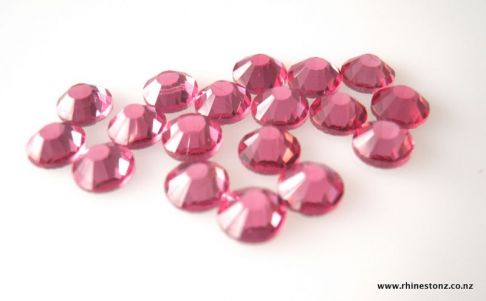 We've been looking for a third brand of rhinestone to add to our stone ranges, and after much searching we're glad to say we've finally found a range that fits the bill perfectly!
Arabesque Non-Hotfix Flatbacks are a relatively new product to the market and we have to say, we've been very pleased with their overall quality, range and cost. We feel that these are an excellent addition to the Rhinestonz range. With the premium brands, Preciosa and Swarovski, you get premium sparkle, quality, range and consistency. This is vital for top-end performance, costuming, fashion and bridal applications.
So, it was important for us to find a range that offered similar in terms of quality and appearance, but at a lower cost. Something that could sit comfortably alongside 'the big boys' and do a thoroughly convincing job...
We believe that the Arabesque range fits the bill perfectly.
While the sparkle en masse of the Arabesque stones is a little less than the same quantity of Preciosa or Swarovski stones would offer, when mixed with Preciosa or Swarovski stones in high volume designs the overall effect is convincingly maintained. Used on their own you will get less sparkle, and the colour range is much less adventurous, but if budget is a strong factor in your decision-making, if top-of-the-line sparkle is not too important to you, and if classic colours are what you need, then these stones may be just the thing!
Find them under Crystal Rhinestones on our website and tell the filter to search for 'Arabesque'.
And contact us for a FREE SAMPLE of ARABESQUE Flatbacks with your next order!
We'll be happy to oblige!
Donna & the team at Rhinestonz & Beads