Deluxe Sample Chart Preciosa Flatbacks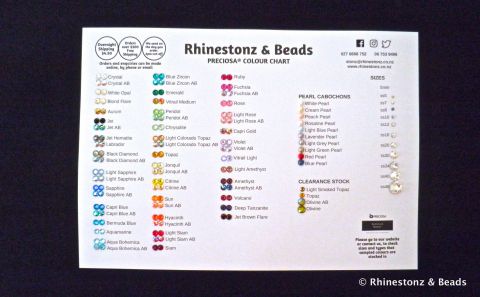 Sampling over 60 stocked colours from the Preciosa range; 2 stones per colour.
This is the right chart for you if you simply 'must have Preciosa!' and you're happy to view all Preciosa flatbacks, whether you can glue them on or hotfix them on (remembering that you can glue all Preciosa flatbacks on, regardless of whether they are non-hotfix or hotfix, but if you are using a hotfix tool you can only use hotfix stones, in which case this chart may be of more use to you: Hotfix Flatbacks Chart).
Preciosa's beautiful Viva12 Non-Hotfix rhinestones have 12 facets cut around the top of the stone. They have excellent sparkle, cut and colour up close and at a distance. They represent excellent value for money for such a world-class stone. They are highly sought after for use in a variety of applications including stage costumes, fashion, performance wear, craft, special occasion wear and accessories. In Preciosa's rhinestone range there is a great variety of colours, coatings and effects. Non-Hotfix Rhinestones can be applied with Gem-Tac, E6000 or Fabric Cement to glue to fabrics, or E6000 or Hypo Cement for gluing to metal or plastic. Hotfix Rhinestones can be applied with a Hotfix Applicator Tool to a variety of surfaces, both delicate and hard. It is also possible to adhere these stones to fabric, paper, metal or plastic using a suitable adhesiveshould you need to.
Our Sample Charts have been designed by us to show all the colours we stock in our ongoing and current Preciosa range, for the purpose of matching stone colours to fabrics, selecting stone colour groupings and confidently choosing sizes. They are an excellent reference tool for dressmakers, designers, and for dance studio or club noticeboards.
Each size of rhinestone we stock in this range is also sampled, in Crystal, so that you can compare sizes. Please note, this is not a glossy presentation board. (You can also download or view a copy of Preciosa's Colour Chart here as an additional reference).
As Preciosa's Authorised Reseller we are also happy to assist with colours and cuts not necessarily stocked or sampled here. Please contact us if you would like to discuss your bespoke rhinestone needs with us. All enquiries are welcome.